Atmospheric Neutron Irradiation Spectrometer Successfully Built at CSNS
CSNS's Atmospheric Neutron Irradiation Spectrometer (ANIS) received its first beam on April 2, 2022, hence marking successful completion of its construction.
As a fruitful collaboration between CSNS and CEPREI Laboratory, ANIS is the only facility in China that is capable of conducting accelerated atmospheric neutron irradiation tests—it is able to produce high flux neutron beams with an atmospheric neutron spectrum (ranging from meV to GeV) similar to that in the real space and terrestrial environment.
As a powerful tool dedicated to accelerated atmospheric neutron irradiation testing, ANIS is expected to conduct state-of-the-art research in particular for semiconductor devices, large-scale integrated circuits, key electronic equipment, new materials, and biological irradiation effects. What's more, ANIS will also play a significant role in high-tech development in various areas such as aviation, communication, energy, transportation, healthcare and high-performance computing.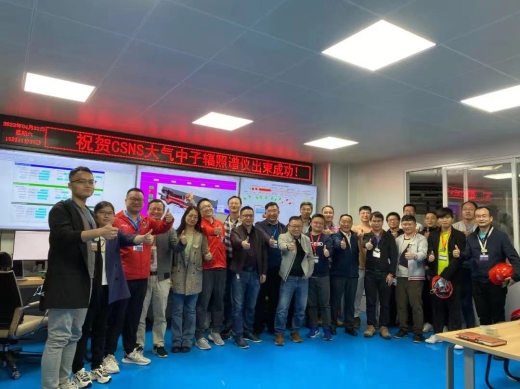 Celebration photo at ANIS control room(Image by IHEP)
Contact Information
Mr. GUO Lijun
International Office
ljguo@ihep.ac.cn