Ninth International Review on CSNS Held in Dongguan
The International Advisory Committee of the China Spallation Neutron Source (CSNS) held its ninth review meeting on Dongguan Campus, the Institute of High Energy Physics (IHEP) from December 18th to 20th, 2017.
Sixteen senior scientists from the world-reknowed research institutions like Oak Ridge National Laboratory (ORNL), Rutherford Appleton Laboratory (RAL), European Spallation Source (ESS) and Japan Atomic Energy Agency (JAEA), attended the meeting and had thorough review on CSNS.
Prof. Chen Hesheng, CSNS Project Director gave an overall report on CSNS progress covering the accelerator, target and spectrometer, facility construction and user cultivation. Heads of three sub-systems also gave reports respectively. The review experts toured the linac and ring tunnel, the target station and instrument hall.
The review experts listened to 20 detailed reports and had thorough discussions and exchanges with the CSNS staff. They concluded that since the last review meeting, the project has made remarkable progress. Valuable suggestions and opinions were put forward on such key issues as transition from construction to operations, user development and radiation safety, especially in development of the next suite of neutron instrumentation and beam power upgrade. Prof. Chen expressed his hearty thanks to the experts' review and looked forward to their continued supports in the future.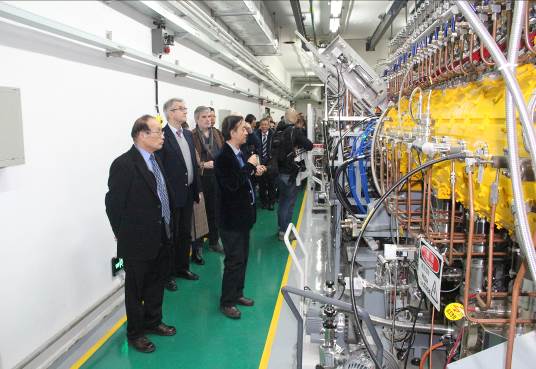 IAC members toured the CSNS linac and RSC tunnel (Image by IHEP)
Contact Information
Mr. Guo Lijun
International Office, IHEP
ljguo@ihep.ac.cn