Celebration for the 35th anniversary of Chinese Physics C
In an event on Nov.2 commemorating the 35th anniversary of Chinese Physics C (known as High Energy Physics and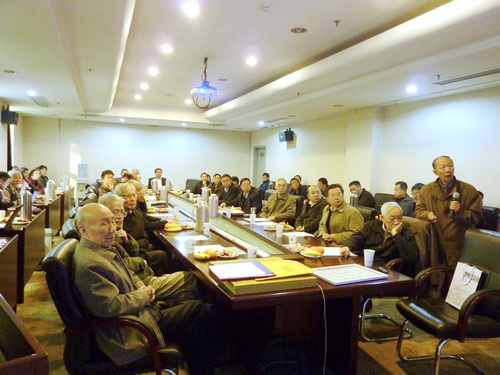 Prof.ZHENG reviews the delevoping history of Chinese Physics C
Nuclear Physics
), about 50 former and current chief editors and scientific leaders in the field celebrated the success of the periodical.
The event began with speeches from noted scientists who elaborated on the tremendous progress made by the periodical, which was credited "mirroring" China's progress on high energy physics and nuclear physics research over the past thirty five years.
Dr. ZHENG Zhipeng reviewed the history of Chinese Physics C and introduced its future challenges and opportunities. The celebration was culminated by honoring Prof. Tsung Dao Lee, the Nobel Prize laureate for his special contribution to the periodical and several other scientists for submitting their significant research results for publication on the periodical.
Chinese Physics C is a monthly-published science journal focusing on specialized fields with its first issue published in 1977. It is sponsored by the Chinese Physical Society, and supported by the Institute of High Energy Physics and the Institute of Modern Physics, the Chinese Academy of Sciences.